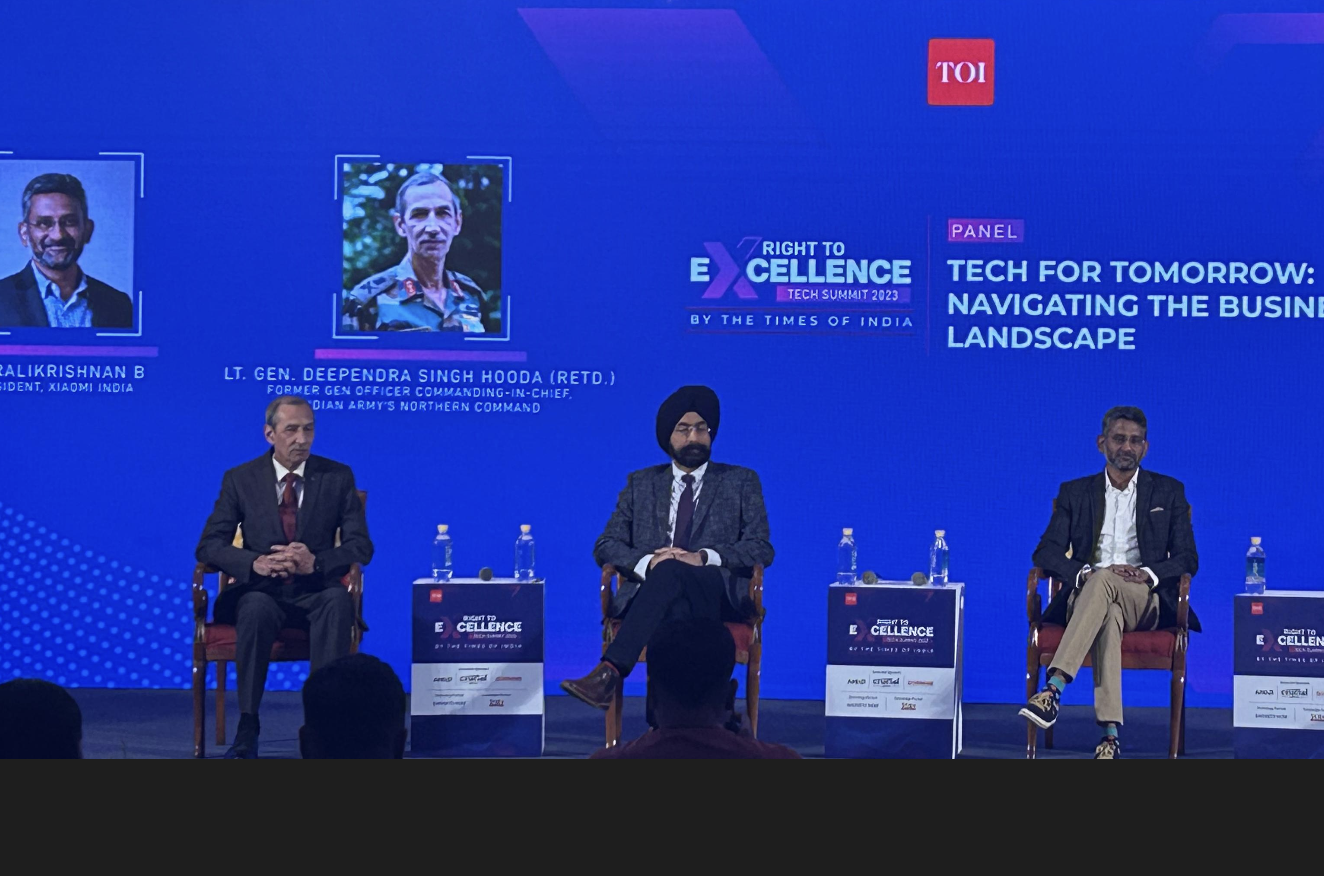 Times of India held "Right To Excellence – Tech Summit 2023″ in New Delhi on September 22. The engaging event saw industry leaders provide valuable insights into the transformative power of technology across various industries. Rajeev Chandrasekhar, minister of state for electronics and information technology, gave the keynote address. One of the sessions at the event was 'Tech for Tomorrow: Navigating the Business Landscape'. The session had three speaker: Muralikrishnan B, President, Xiaomi India; Lt General Deependra Singh Hooda (Retd.) former gen officer Commanding-in-Chief, Indian army's Northern Command; and Dr Arvinder Singh Soin, Group Chairman and Chief Surgeon, Institute of Liver Transplantation. Medanta-The Medicity.
The panellists agreed that the technological landscape is changing rapidly and that businesses need to be agile and adaptable in order to keep up. The speakers highlighted the importance of innovation and adaptation for businesses to remain competitive in the future.
Lt General Hooda spoke about the need to accept change, he said that acceptance to change is important. "Leadership needs to accept the change. Getting the leadership to accept that there is need to accept newer technologies. And we cannot be satisfied with incremental technology as your opponent may adapt disruptive tech…," he said, adding at the same time that we cannot also fall in the trap of fancy technology.
Dr Soin spoke about how technology has revolutionised the healthcare industry. He shared that today almost 40% of OPD appointments at Medanta are virtual. He also told an enthralled audience that he did a robotic surgery in the morning. He went on to share what a robotic surgery exactly is and how many patients think that it is performed by robots. "I have to assure them that it is me only who will be doing the robotic surgery. Just that the tools used are robotic." Talking about how robotic surgery can actually further make the difference he said, "If connection is good that console we use in robotic surgeries can be in a different location, even different a city. This will allow doctors to do surgery in remote areas without them actually being present there."
Xiaomi' Muralikrishnan betted big for ensuring privacy and security of consumer data. "Fundamental premise is that security has to be by design, it cannot be an after thought. There are data privacy regulations across the globe, India too has taken steps here in the right direction. It is important to take user consent. Information/data has to be related to the job it is required. Users also should have the right to get that consent removed. Means they should be able to withdraw their consent any time. There cannot be any grey area when it comes to privacy and law should ensure that."
He also shared Xiaomi's sustainability goals. "Our aim is to go net zero by 2040, and by 2030 reduce it by 70%."
All panellists also emphasised on the importance of investing in research and development and building a culture of innovation within the organisation.