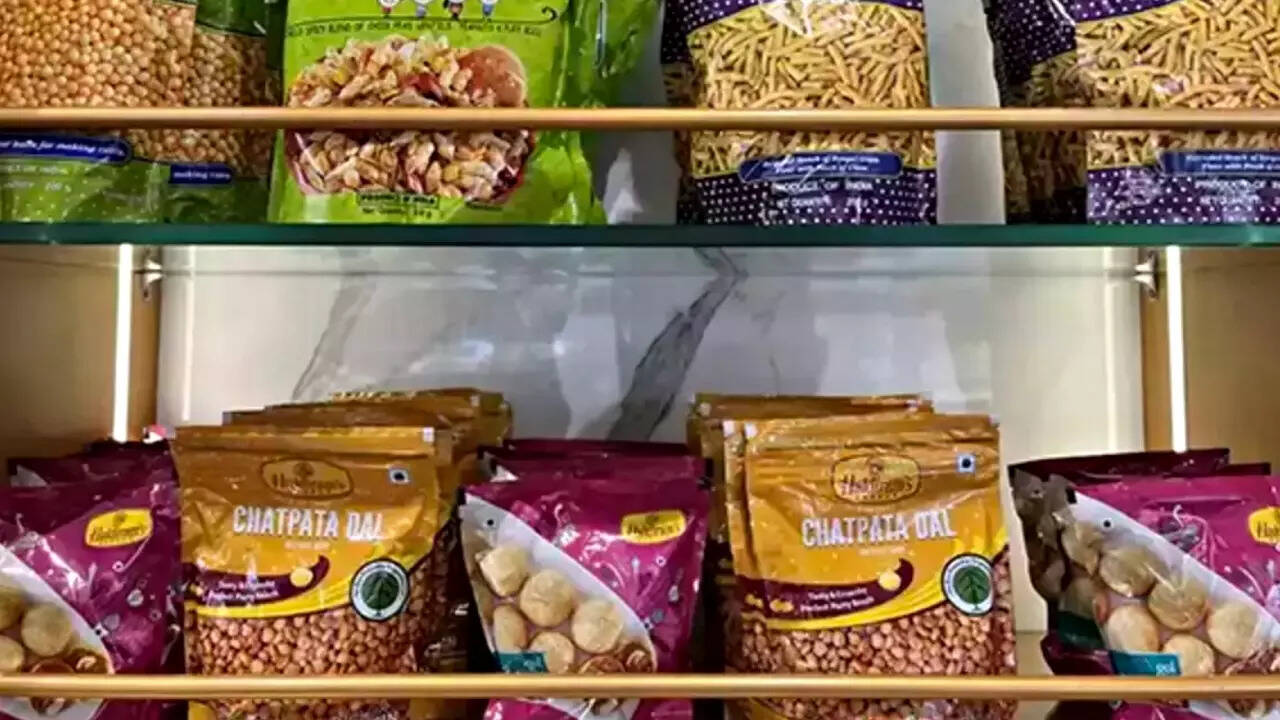 Haldiram's, the renowned traditional sweets and snacks brand, achieved a significant milestone in the fiscal year ending March 2023, raking in over a billion dollars in revenue from packaged snacks, according to an ET report. This accomplishment underscores the preference of Indian consumers for desi snacks over Western alternatives like chips.
According to data sourced from Nielsen and corroborated by industry insiders, Haldiram's recorded snack sales of Rs 9,215 crore ($1.1 billion) during this period, reflecting a substantial 19% surge compared to the previous year. By contrast, PepsiCo's snack sales stood at Rs 6,430 crore ($773 million), while Balaji Wafers, based in Gujarat, amassed Rs 5,296 crore ($637 million) in sales.
Haldiram's surpassed PepsiCo in India's snack market roughly five years ago to become the country's largest snack brand. Since then, the gap in sales has continued to widen. Presently, Haldiram's commands a 21% share of the Rs 43,800-crore snack food market, as opposed to Pepsi's 15%, while a considerable 40% is controlled by over 3,000 smaller regional players.
Interestingly, Haldiram's operates as three distinct entities: Haldiram's Snacks (north), Haldiram's Foods (west and south), and Haldiram's Bhujiawala (east). This geographic division emerged from a split by the Agarwal family during the 1990s.
Tata denies $10 billion acquisition of snack maker Haldiram's amid speculation
Neeraj Agrawal, director at Haldiram's, commented on their sustained success, highlighting their commitment to quality and pricing, even in the face of inflationary pressures. He also noted that their brand enjoys consumption both in-home and out-of-home, a characteristic that sets it apart from many other products primarily used outdoors.
While Haldiram's crossed the billion-dollar revenue mark two years ago, it's worth noting that this figure encompassed restaurant revenues, which constitute a fifth of their total sales. Industry experts suggest that group sales could be over Rs 11,000 crore.
Traditional snacks represent nearly half of the market, with multinational and local companies vying to penetrate rural markets through appealing packaging and competitive pricing in the namkeens segment. Branded namkeen varieties such as dal, chivra, bhujia, and nuts have witnessed increased demand in recent years, and brands like Haldiram's have been quick to capitalize on this trend.
Krishnarao Buddha, senior category head at Parle Products, observed a shift from unbranded to organized players in the market. He also noted that unlike the segment, which garners a significant portion of its sales from small packs priced at Rs 5 and Rs 10, Haldiram's derives the majority of its sales from larger bulk packs, contributing to both value and volume share.
The snacks market can be categorized into four sub-segments. The first comprises traditional snacks like namkeen, bhujia, and nuts, while the second includes Western options such as potato chips. Riblon and gathia, found under brands like Kurkure, as well as extruded snacks like cheese balls, constitute the remaining two sub-segments. Haldiram's maintains a presence across all these snacking categories.
On the other hand, the Western snacks market leader, Pepsi, which also witnessed 20% growth in the previous fiscal year, primarily focuses on the sub-segment of Western snacks. A spokesperson for PepsiCo highlighted their growth strategy, emphasizing innovation and an expansion of their reach, all while tailoring flavors to cater to Indian preferences.
Notably, the roots of the Haldiram's business trace back to its inception by Ganga Bishan Agarwal 'Bhujiawala' from a small shop in Bikaner, Rajasthan, in 1937.
In April, the Competition Commission of India approved the demerger plan of the Haldiram's Group.