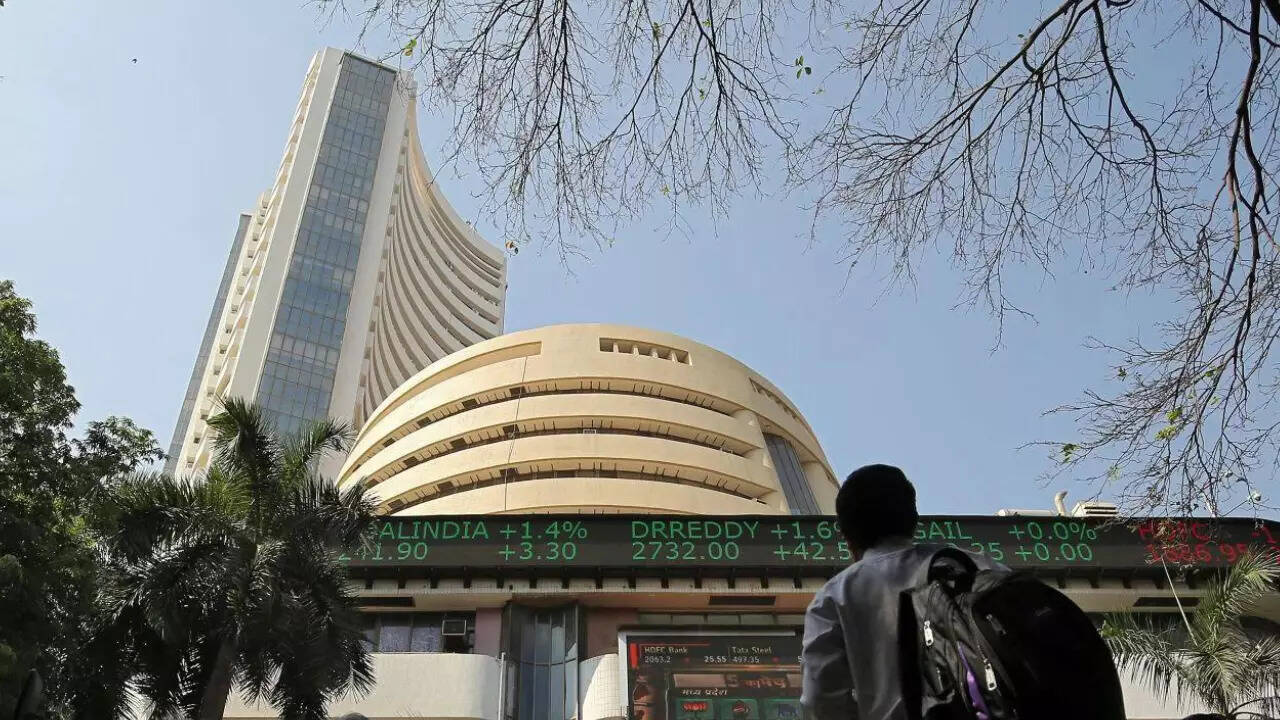 MUMBAI: Equity benchmark indices ended lower by 286.06 points on Wednesday, extending their previous day's fall, due to unabated foreign fund outflows and weak trends in the US and Asian markets.
The 30-share BSE Sensex went lower by 286.06 points, or 0.44 per cent, to settle at 65,226.04. During the day, it plunged 633.33 points, or 0.96 per cent, to 64,878.77.
The Nifty declined 92.65 points, or 0.47 per cent, to end at 19,436.10.
Among the Sensex firms, Axis Bank fell over 4.38 per cent, emerging as the biggest laggard. State Bank of India, IndusInd Bank, NTPC, UltraTech Cement, Bajaj Finserv, Tata Steel, JSW Steel, Maruti, and Larsen & Toubro were the other major laggards.
Nestle, Hindustan Unilever, HDFC Bank, Tata Consultancy Services, Infosys, HCL Technologies, and Asian Paints were among the gainers.
In the broader market, the BSE midcap gauge fell 1.52 per cent and smallcap index declined 0.96 per cent.
Among the indices, metal tumbled 1.98 per cent, realty declined 1.83 per cent, utilities (1.42 per cent), capital goods (1.33 per cent), industrials (1.22 per cent), services (1.02 per cent), commodities (1 per cent), and oil & gas (0.87 per cent).
FMCG, IT and teck were the gainers.
"Overseas investors are pulling out funds from the Indian equity markets as the current rally in US dollar and bond yields is making emerging market assets less attractive," Shrikant Chouhan, head of research (retail), Kotak Securities Ltd, said.
"Despite our strong macroeconomic growth performance, India is not insulated from global problems, and hence any correction in global markets due to worries over further rate hikes would have a rub-off effect here," he said.
"Strong US jobs data is reinforcing Fed's hawkish stance and multi-year high US bond yields is signalling an impending interest rate hike. Globally, investors are adopting a risk-averse strategies due to inflation concerns and the strengthening US dollar," Vinod Nair, Head of Research at Geojit Financial Services, said.
"In India, despite a robust economy, premium valuations of midcaps and recent rally is augmenting consolidation," he added.
In Asian markets, Seoul, Tokyo, and Hong Kong settled lower while Shanghai ended in the positive territory.
European markets were trading mostly in the green. The US markets ended with over 1 per cent fall on Tuesday.
Foreign Institutional Investors (FIIs) offloaded equities worth Rs 2,034.14 crore on Tuesday, according to exchange data.
Global oil benchmark Brent crude declined 0.91 per cent to USD 90.09 a barrel.
The BSE benchmark had declined 316.31 points, or 0.48 per cent, to settle at 65,512.10 on Tuesday. The Nifty fell 109.55 points, or 0.56 per cent, to end at 19,528.75.