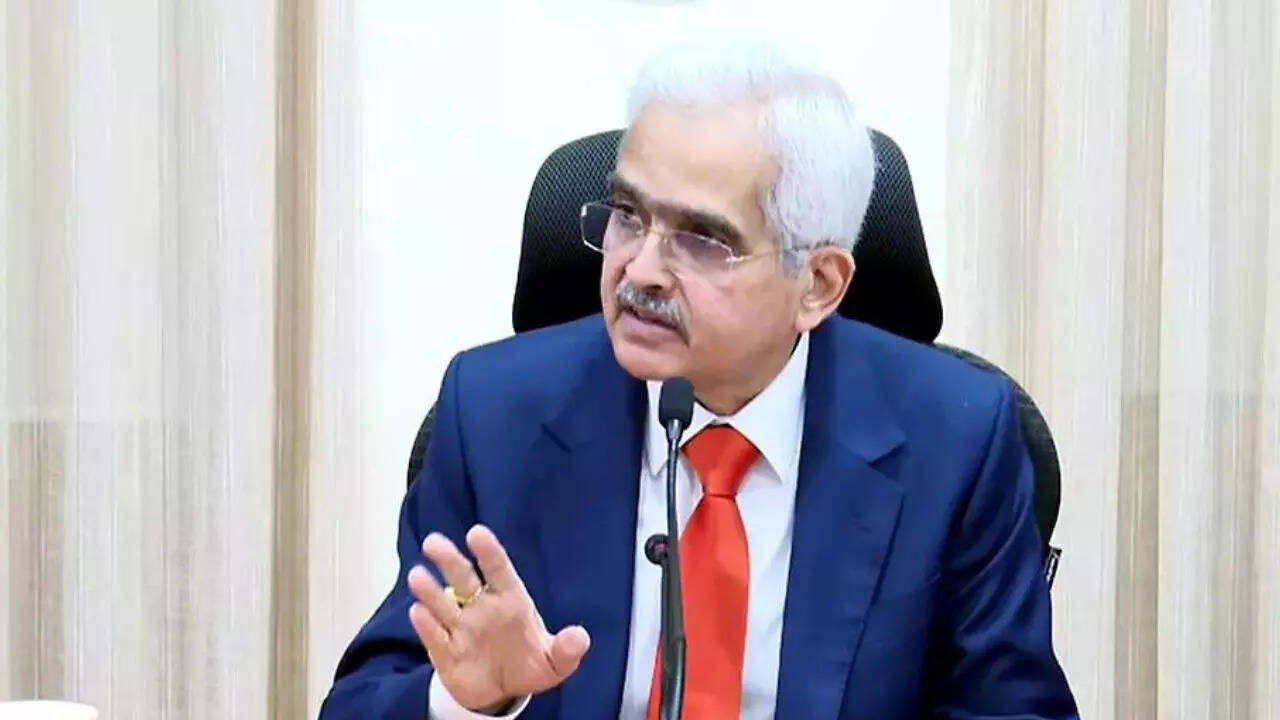 MUMBAI: Asserting that the inflation target is 4 per cent, Reserve Bank Governor Shaktikanta Das on Friday said the monetary policy, therefore, will have to remain "actively disinflationary" so that prices come down on a durable basis. For the fourth time in a row, the RBI's rating setting panel MPC (Monetary Policy Committee) earlier in the day left all the key policy rates unchanged, reiterating its focus to be inflation control, along with managing liquidity adequately, so that the economy and the public have adequate liquidity at their disposal.
Admitting that inflation remains above the tolerance and vulnerable to the recurring and overlapping food price shocks, the governor told reporters that "declining core inflation is a silver lining, but headline CPI inflation remains vulnerable to recurring and overlapping food price shocks".
"Therefore, the MPC remains highly alert and will not hesitate to take timely and appropriate action if situation warrants. It's particularly reiterated that the inflation target is 4 per cent and not 6 per cent (on the upper threshold). Hence, monetary policy needs to remain actively disinflationary," Das said.
Despite many shocks to inflation, which had touched 7.8 per cent in July, the RBI retained its inflation forecast for the current fiscal at 5.4 per cent and vowed to take timely measures to prevent any spillovers of global food and fuel price shocks to ensure macroeconomic stability and sustainable growth.
One of the reasons for the optimistic outlook on prices, the governor said, is the sharp fall in food prices since August, based on which he expects the September retail inflation number to be lower than August (6.83 per cent) and July prints.
Retail price inflation moderated to 4.6 per cent in the first quarter of FY24 compared to 7.3 per cent a year ago.
"A significant easing of inflation pressures from its exceptionally high level in July and August is expected to materialise in September as the impact of fleeting food price shocks wanes," Das said.
RBI sees CPI at 5.4 per cent for FY24, with Q2 at 6.4 per cent, Q3 at 5.6 per cent and Q4 at 5.2 per cent, with risks evenly balanced. CPI for Q1 of FY25 is seen at 5.2 per cent.
"We remain vigilant of the evolving inflation dynamics. I'd like to emphatically reiterate that our inflation target is 4 per cent. Our aim is to align inflation to the target on a durable basis while supporting growth," he said.
Das further said that while near-term inflation is expected to soften due to vegetable price correction, especially of tomatoes, and reduction in LPG prices, the future trajectory will be conditioned by a number of factors, including kharif crops, EL Nino conditions and demand-supply mismatches.
When asked whether the RBI is looking for a sub-4 per cent quarterly CPI reading to change the policy stance or slash the repo rate, Das said, "We are focused on aligning inflation outcomes with the target. If CPI goes below 4 per cent on a durable basis, then we will shift our stance to accommodation. We are all trying to keep inflation at the target or around it".
"We reiterate the word we have used is align inflation to the 4 per cent target because if there is a sudden spike or if there is a sudden fall, we have to see how durable is that decline. So, only when we are convinced that there is durability in prices, say when inflation is at 4 per cent or below 4 per cent on a durable basis, then only, we may call for a rethink. But that moment is not now," he explained.
"I cannot tell you what is the specific point when we will change the stance – say if it reaches 4.25 or 4.26 per cent. All I can say is we'll change our stance when prices remain under our target on a durable basis.
"And the question of the neutrality of policy stance will arise only when you see inflation at around 4 per cent on a durable basis. Neutral will also mean you can act in both directions," he added.
Pointing to the highly uncertain global scenario, he said for a fortnight, crude prices were trading at USD 90-95/barrel, but suddenly from yesterday, it has come down. Similar has been the food price shocks. There are big surprises coming from food price shocks, and there are weather events.
"So, given these kinds of highly uncertain environments, it will not be desirable for the central bank to say that I will do this at this particular time because it will unnecessarily confuse the market, and it may not actually play out that way because of the uncertainties involved," Das said.
The governor also said even when we reiterate that our focus is to bring down inflation, we have not increased the rates for the fourth consecutive review because "when we bring down inflation, we are actually increasing the purchasing power of the public".
"I'd also like to mention that when we make policy, we are very sensitive to the 1.4 billion people of this nation because monetary policy is not just for some segments of the financial markets because we are very, very sensitive and mindful of the requirements of the 140 crore people of this country," the governor said.